Cross Country heads to NCAA Championships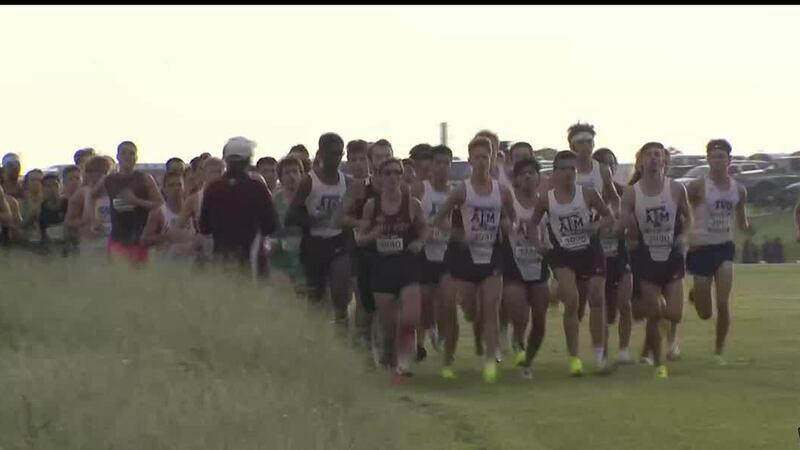 Published: Nov. 16, 2023 at 2:33 PM CST
CHARLOTTESVILLE, Virginia -- The Texas A&M women's cross country team and men's athlete Eric Casarez travel to compete at the NCAA Championship Saturday morning at Panorama Farms. The gun goes off at 9:20 a.m. for the women's 6k race, followed by Casarez running the men's 10k course at 10:10 a.m.
"The women ran really well at regionals and even exceeded expectations," distance coach Wendel McRaven said. "It's really exciting to be competing at the NCAA Championships. In the past, we have been close to making it, but we've never fully got there. It's nice getting over that hump and running a good race."
Last time out at the South Central Regional, the women's squad finished second place and punched their ticket to the NCAA Championship for the first time in 23 years, and second time in program history. Madison Brown paced the women's team with a ninth-place finish in 20:40.2 around the 6k course. She was followed by Maddie Livingston in 11th (20:51.5), Kennady Fontenot in 14th (20:54.5), Shewaye Johnson in 27th (21:23.6) and rounding out the group was Emma Little in 29th (21:29.5). The group compiled a total of 90 points in the second-place team finish, which booked their ticket to the championships. Brown, Livingston and Fontenot also earned South Central All-Region honors, as they all placed in the top-25 individually.
The Maroon & White men's team finished sixth with 178 points as they ran around the 10k course. Senior Casarez secured an eighth-place finish in his final South Central Regional, crossing the line with a time of 29:29.4, securing his spot at the NCAA Championship for the second time in his career and first appearance since 2019. Casarez was also added to the South Central All-Region Team thanks to his top-25 finish.
"It feels great to be qualified again," Casarez said. "It felt like deja vu qualifying four years later at the same course I did in 2019. I never stopped believing that I wouldn't make it back through all the ups and downs I've had. This time around is different because it's a job not finished mindset. I am super excited to be back."
The A&M women's squad will be joined by another 30 teams, including Arkansas, Boston College, BYU, Florida, Furman, Georgetown, Iowa State, NC State, Northern Arizona, Notre Dame, Oklahoma State, Oregon, Penn State, Stanford, Syracuse, Tennessee, Wisconsin, Alabama, California Baptist, Colorado, Colorado State, Harvard, Lipscomb, Michigan State, Ole Miss, Providence, Utah, Utah Valley, Virginia and Washington. Casarez will race against 32 teams and another 36 individuals on the men's side.
Fans can follow the race on ESPNU or keep track of live updates at the meet through pttiming.com.
To learn more about Texas A&M Track & Field/Cross Country, head to 12thMan.com and follow @aggietfxc.
Copyright 2023 KBTX. All rights reserved.