Brief window for strong, possible severe storms Monday ahead of stout cold front
Highest concern more likely just east of the Brazos Valley
Published: Nov. 19, 2023 at 8:31 AM CST
BRYAN, Texas (KBTX) - A strong cold front is headed for Texas and the Brazos Valley ahead of the Thanksgiving holiday. Just before the air is changed out from a mild feel to a winter-ish one, rain and a few thunderstorms will be possible Monday. The Storm Prediction Center has outlined a majority of the area in a low risk of an isolated strong-to-severe storm.
WHAT THE STORM PREDICTION CENTER SAYS AS OF SUNDAY MORNING
Most of the Brazos Valley has been included in a 1 out of 5, isolated, risk for severe weather (shown in green above). A slightly higher 2 out of 5, scattered, risk is outlined over the east sides of Madison, Walker, and San Jacinto Counties, and a majority of Leon, Houston, and Trinity Counties.
The agency notes that if thunderstorms manage to become concerning, large hail and locally damaging wind gusts will be the primary, initial threats. They go on to note that there is a chance of a tornado threat potentially evolving with persistent supercell thunderstorms -- although that is more likely east of the Brazos Valley.
TIMING AND POTENTIAL LOCALLY
The chance for rain and a few thunderstorms is possible as early as 7 am to 9 am Monday. This initial activity could produce passing heavy rain, small/sub-severe hail, wind gusts to 30mph, and occasional lightning. If this timing holds, this round of rain and storms would likely be non-severe.
CHECK THE LATEST RADAR AND RECEIVE ALERTS AS THEY ARE ISSUED WITH THE KBTX PINPOINT WEATHER APP
By midday to early afternoon, a few stronger storms will attempt to form along or east of I-45 as the heating of the day starts to take hold. By this point, most storm activity should be moving east and out of the Brazos Valley into East Texas. This is where the more likely potential for severe weather starts to materialize, particularly as storms move further east into Louisiana.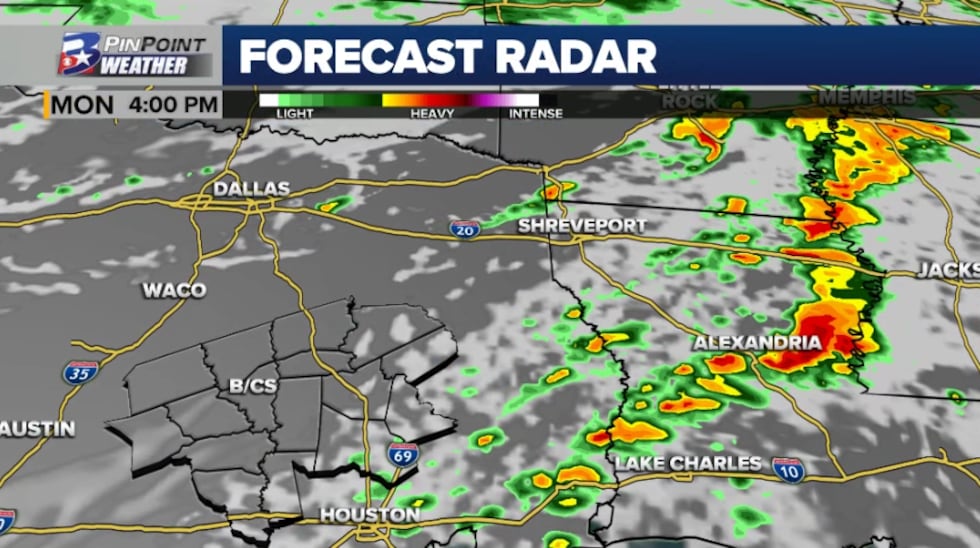 The overall concern for severe weather is low, but not necessarily zero for the Brazos Valley.
HOW MUCH RAIN COULD FALL MONDAY
While not all forecast data is supportive of this round of storms starting over the Brazos Valley, the most aggressive outputs sprinkle the area with needed rainfall.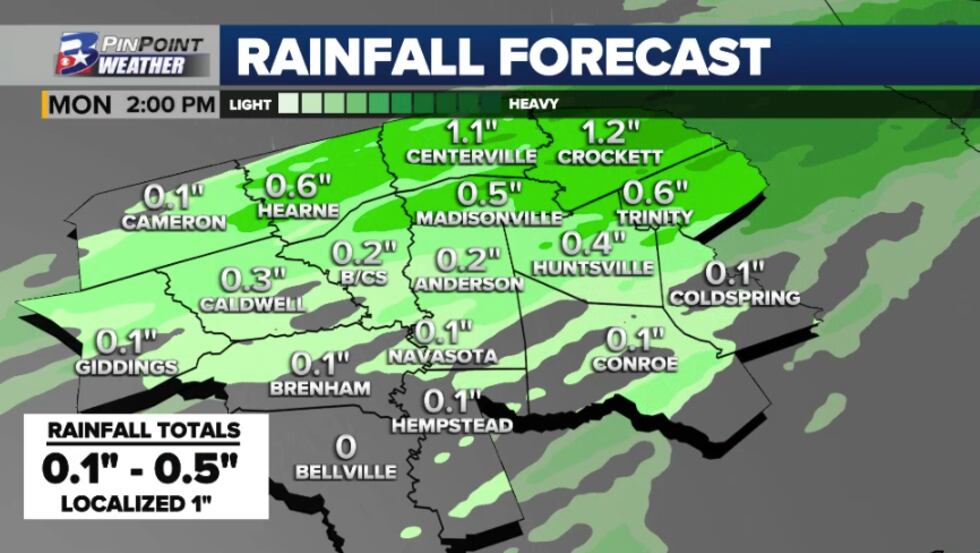 Rainfall totals between 0.1″ and 0.25″ should be common if this rain opportunity materializes. The northern and northeastern Brazos Valley -- where training or stronger storms are possible -- has the chance to grab localized totals between 0.5″ and 1″.
WHAT TO MONITOR OVER THE NEXT 24 HOURS
The Storm Prediction Center will issue updates around midday Sunday, midnight Monday, and then throughout the day. If forecast data remains persistent, there is a chance the highest risk of severe weather will be nudged out of the Brazos Valley and further to the east.
Copyright 2023 KBTX. All rights reserved.