F1 exceeds Las Vegas expectations as Verstappen wins one of the most competitive races of the season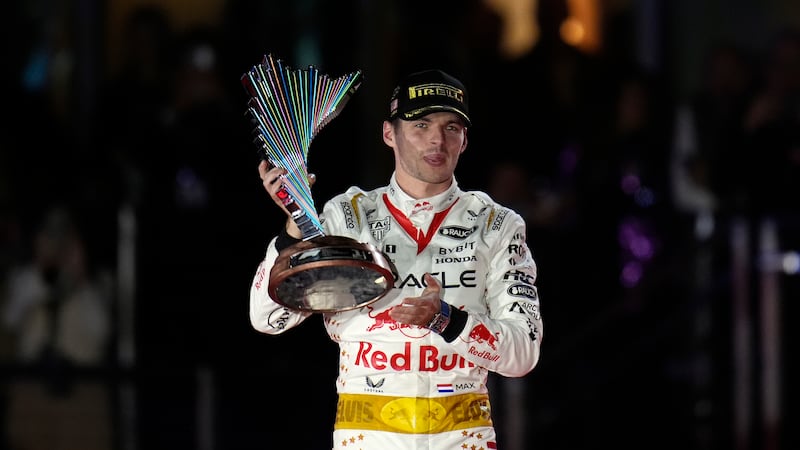 Published: Nov. 19, 2023 at 9:34 AM CST
LAS VEGAS (AP) — Max Verstappen hated everything about the Las Vegas Grand Prix from the moment he arrived in Sin City. Formula One's three-time reigning world champion found the excess and opulence over-the-top and prioritized over the actual racing.
He changed his tune — literally — following his 18th win of the season.
"Viva Las Vegas! Viva Las Vegas!" sang Verstappen as he crossed under the checkered flag waved by Justin Bieber. Verstappen had slammed Saturday night's spectacle at every chance, yet raced in an Elvis-inspired firesuit and took the victory on the famed Las Vegas Strip.
"I hope everyone enjoyed it, we definitely did. Excited to come back here next year and try to do something similar," said Verstappen, who had markedly reversed his weeklong position on the Las Vegas spectacle.
"It was a fun race. I enjoyed it," he conceded.
Verstappen passed Charles Leclerc at the start then overcame a penalty to pass Leclerc once more with 13 laps remaining to continue his season-long dominance. Verstappen, Leclerc and Sergio Perez were driven in a limousine to a stage located near the Bellagio — "we go straight to the nightclub," Verstappen told his fellow podium finishers — but they were instead treated to the casino's famed fountain show.
The Bellagio fountains were a big part of the victory celebration. None of the participants seemed remotely interested as they stood chatting. After receiving their trophies, they were treated to a New Year's Eve-style fireworks show over the Strip.
Martin Garrix then launched into a throbbing DJ set to entertain those who opened their wallets for the most expensive spectator race of the season. Celebrities danced along on the grid and everyone seemed thrilled with the show. The stars in attendance included Brad Pitt, Rihanna, Usain Bolt and Shaquille O'Neal as F1 said it drew more than 315,000 spectators over the weekend and estimated an economic impact of $1.2 billion to Las Vegas.
"I really enjoyed it and I am especially happy that we finished the weekend on a high note because it was hurting me to see the sport that I love so much starting so wrong on Thursday," said Leclerc. "The fact that we had an amazing race makes it all better."
The race was the third stop this season in the United States, more than any other country, and was promoted by F1 and owner Liberty Media. But the event has been lambasted — especially by Verstappen — for its emphasis on becoming a neon extravaganza.
Tickets were expensive, hotels along the famed Strip hiked their prices, and the sporting element of the 21st race of the season was overshadowed by everything from celebrities, musical acts and a myriad of Elvis impersonators roaming the paddock that included a wedding chapel where former F1 champion Jacques Villeneuve was married earlier in the week.
Liberty expected to spend $500 million on the first grand prix it self-promoted, but paddock speculation before Saturday night's race was that Liberty had gone well over budget. The entire event nearly imploded nine minutes into the first practice session on Thursday night when Carlos Sainz Jr. ran over a water drain valve cover on the track that badly damaged his Ferrari and F1 had to close the 3.85-mile (6.2-kilometer) circuit for inspection.
Fans were forced to leave at 1:30 a.m. Friday morning after witnessing just nine minutes of track activity. The second practice started at 2:30 a.m. and ran until 4 a.m., and instead of an apology, F1 simply offered $200 credits to the LVGP merchandise store to any ticket holders who had only purchased Thursday access. A class-action lawsuit was filed Friday against the Las Vegas Grand Prix.
It made it critical for F1 to deliver a good race Saturday night and, even though it was Verstappen's sixth consecutive victory, it was one of the most spirited events of the season. Additionally, a track that had been likened to a "flying pig" because of its layout was praised for its raciness.
Seven-time F1 champion Lewis Hamilton, who finished seventh for Mercedes, said the circuit "provided a better race than most of the tracks we go to."
"I don't think the music stopped this entire weekend in the paddock," said Logan Sargeant of Williams, the only American driver in F1.
Leclerc and teammate Sainz had qualified 1-2 on Friday but Sainz was handed a 10-place penalty on the starting grid because Ferrari was forced to change his car due to the damage from hitting the drain cover. That pushed Verstappen up to second for the start and he immediately pounced.
The Dutchman forced Leclerc off track to take the lead, and although Leclerc demanded that Verstappen be forced to give the position back, Verstappen was only handed a five-second penalty. He served it during a later pit stop, but his Red Bull is so strong, he remained in contention the entire race.
Leclerc passed Perez for the lead with 17 laps remaining, and then three laps later Verstappen passed his teammate to take second. He and Perez then worked to create a tow that allowed Verstappen to catch Leclerc for the win with 13 laps remaining.
Perez had worked his way past Leclerc for second but Leclerc grabbed it back at the finish to deny Red Bull its seventh 1-2 finish of the season.
"I wanted that win so bad," Leclerc said. "I enjoyed it so much. Second place with a lot of fights. There is no better race for the first race in Vegas."
With Hamilton finishing seventh, Perez locked up second to Verstappen in the season driver standings.
The Leclerc finish helped Ferrari cut its deficit to Mercedes to four points for second in the constructor championship heading into next week's finale at Abu Dhabi.
Lando Norris of McLaren was involved in an early accident and taken to a local hospital for precautionary reasons. He was released shortly after the fireworks show.
___
AP sports: https://apnews.com/sports
Copyright 2023 The Associated Press. All rights reserved.