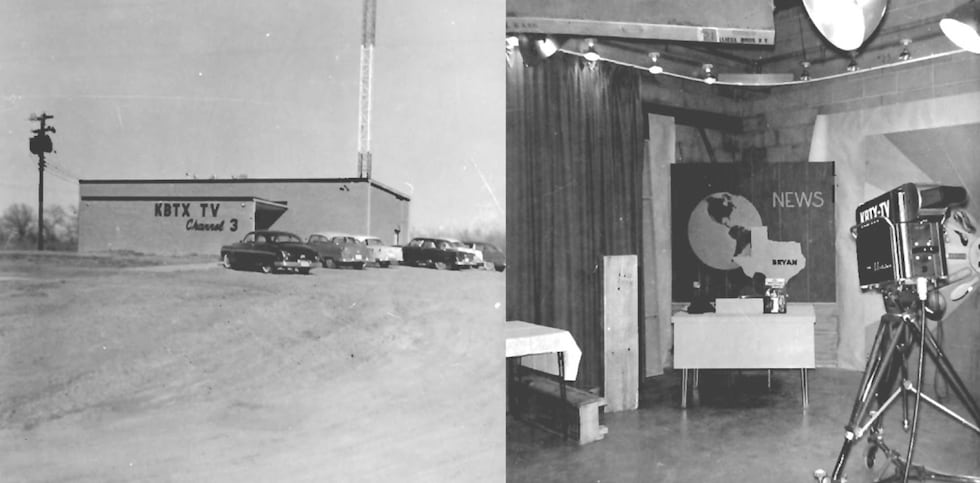 About Us
Since May 7, 1957, KBTX has been telling the stories of the Brazos Valley from our studios on East 29th Street in Bryan.
In the early days, the four-room building was at the end of a dirt road and sandwiched by pastures—the smallest television station in the country. Harry Gillam, KBTX's first general manger, pledged the station's full services "to make Bryan better known as a good place to live and work."
In 2020, that four-room building has been substantially expanded to meet the size and needs of the community that now surrounds it, and its staff have gained national recognition for serving the needs and sharing the stories of our community.
KBTX remains the only full-power, fully staffed television station in the Brazos Valley, airing more than 27 hours of local news weekly. The station's news department is consistently recognized among the best in the nation. In 2019, KBTX was honored with 3 regional Edward R. Murrow awards for outstanding achievement in broadcast journalism and has been recently honored by the Lone Star EMMY Foundation, the Radio Television Digital News Association, the Freedom of Information Foundation of Texas, and as the Texas Associated Press Broadcasters' Station of the Year.
Over more than 60 years, KBTX's commitment to the community has not wavered. In 2019, the Texas Association of Broadcasters recognized KBTX as its Bonner McLane Public Service Award winner. Each year, KBTX donates more than a million dollars in advertising and sponsorships to dozens of community partners. The station's Food for Families Food Drive brings the equivalent of more than a million pounds of food to the Brazos Valley Food Bank each year. KBTX also presents the annual Jefferson Awards for Public Service, which recognize the best in volunteerism from our community.
KBTX is proud to serve the Brazos Valley and looks forward to doing so for decades to come.