Bryan BBQ upset after city construction destroys historical property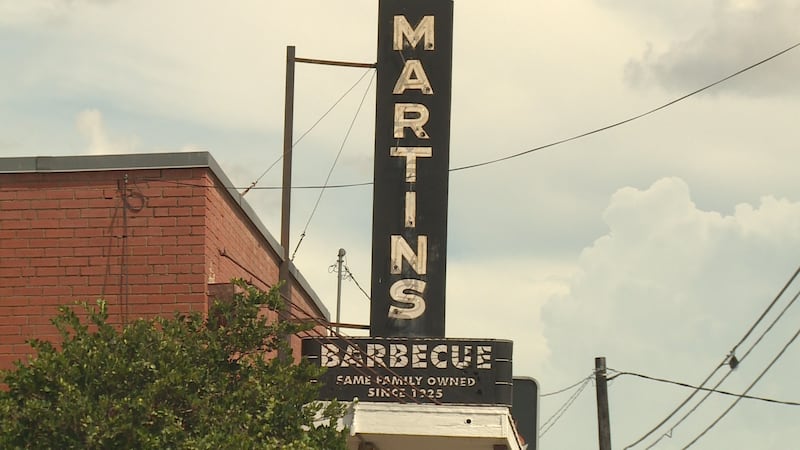 Published: Jul. 12, 2017 at 10:04 PM CDT
Update:
City contractors packed the brick back into place in the parking lot of Martin's BBQ Thursday morning.
Workers arrived early this morning, and were told to get the job done, even if it took a week.
Restaurant owners are extremely happy with the new brick pit. But they say the new pit could never be as good as the old one.
--------------------------------------------------------------------------------------------
Original Story:
The owner of Martin's BBQ in Bryan is upset after city construction disturbed a historically significant part of his property.
The restaurant has been part of the Bryan community since 1925.
However, part of the restaurant's past was torn up Sunday.
"I saw a bunch of bricks in this bucket and I thought 'oh no it was already to late'," said Steve Kapchinskie, owner and head chef of Martin's.
The restaurants parking lot was partially filled with brick, and the brick held a special importance to Kapchinskie. It reminded him of the family that came before him.
"This was the original building my grandfather had on the corner," said Kapchinskie. "It was a wooden structure and inside that was a brick pit which he served his first BBQ out of."
When the city of Bryan hired contractors to smooth the transition of the entrance, they failed to inform them just how important the brick was.
Martin's owners say they were never told when construction would take place.
When they realized what had happened it was too late.
"It was perfect," said Kapchinskie. "It was in good shape, packed in, still had the mortar in it. And I came out here and it was all gone."
After the brick was torn up, city staff and the contractor apologized for the damage.
Now, Martin's owners hope an accident like this never happens again.
"Let the owner know what you are going to do, so in case somebody else like this has something like this, it wont be destroyed."
City staff hope to reconstruct the brick back to it previous condition Thursday.