Bryan ISD STEM program celebrates 10 years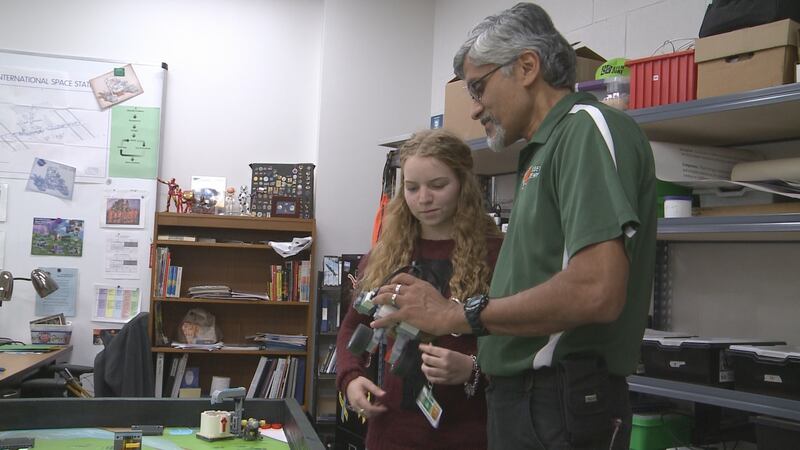 Published: Oct. 17, 2017 at 6:07 PM CDT
Ten years ago, three Bryan ISD faculty members had a vision to start a program that would inspire intermediate students to think outside the box.
"Something new, never been done before, and I used to have to go to every elementary school, telling them about the program," said Naveen Cunha, a teacher at Stephen F. Austin Middle School.
Odyssey Academy, which started at Stephen F. Austin Middle School, is now spread across two campuses.
"This year's the first year at Rayburn and they're over 130 at each of the grade levels, so it's definitely expanded quite a bit," said Cunha.
From a robotics course to learning how to use different tools in the shop, students say that the courses are fun but can be challenging.
"They really like to push you harder and help you achieve your goals," said Matthew Weaver, an 8th grader at Stephen F. Austin Middle School.
"We're kind of using what we learned in engineering, to program robots, and yesterday, we played with 'spheros'-- today we're actually starting a challenge to try to program them to go around a course," said Caroline McCall, an 8th grader at Stephen F. Austin Middle School.
The national recognized program has inspired other schools.
"We had several teachers from all over the world that were really interested in the projects and things that we were doing," said Cunha.
The students agree with their teacher that learning engineering at such a young age can help them in their future careers.
"Engineering is becoming more and more needed in the world, so, that's definitely why we need STEM," said McCall.