Focus at Four: Aggie veteran remembers his Pentagon response efforts on 9/11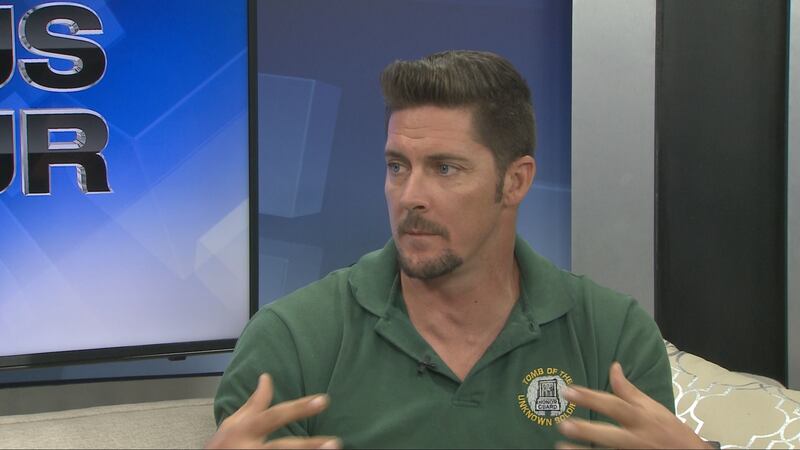 Published: Sep. 11, 2017 at 5:04 PM CDT
Few Americans will forget where they were when the attacks happened on September 11, 2001.
Sergeant First Class Roy L. May, Jr. did more than just watch the horror play out on television. He was there, at the Pentagon, serving in rescue and recovery efforts as part of his role with the U.S. Army Old Guard.
"We heard the plane fly over us, the one that hit the Pentagon," said May. "We didn't know what was going to happen, but at that point, it felt like anything was possible."
That evening, May and his fellow soldiers were deployed to the Pentagon, where they performed rescue and recovery efforts for 18 straight days.
"Eventually, unfortunately, it was just recovery," said May. "Some things I remember aren't very nice, and I don't care to talk about them in public. But I remember the concerted effort and everyone coming together. All these agencies are there, and to see them in what should have been a scene of complete chaos, really working together."
As for the anniversaries that have followed and will follow that day in 2001, May says, he wants Americans to use the chance to unite, rather than get angry.
"It's not hard to remember terrorism because we're still dealing with it in the world," said May. "Really, my biggest thing, I would like this day to remind you of your freedom," May said. "You don't just have to put the flag out on 9/11, July 4th. You can leave that flag out everyday."
------------------------------------------
Sfc. Roy May eventually went on to serve in Iraq. Then, he came to Texas A&M University, where he was a yell leader.
Now, May serves in the U.S. Army Reserves. When not deployed, he instead serves up barbecue at his recently opened business Good Bull BBQ at 326 George Bush Drive, College Station. See Related Links for details.