Former Texas A&M mascot Reveille VIII dies at age 12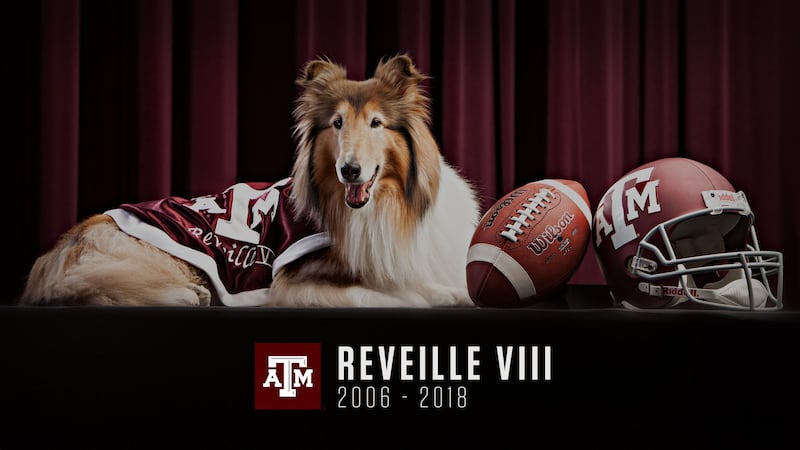 Published: Jun. 25, 2018 at 7:24 PM CDT
Former Texas A&M University mascot and "First Lady of Aggieland" Reveille VIII, who served from August 2008 until her retirement to Texas A&M's Stevenson Companion Animal Life-Care Center in May 2015, passed away Monday, June 25. She was 12 years old.
Veterinarians and student caretakers at the Stevenson Center said she fell ill in the early morning of Saturday, June 23, and was taken to the Texas A&M College of Veterinary Medicine & Biomedical Sciences (CVM) Veterinary Medical Teaching Hospital.
Dr. Kate Creevy, associate professor of small animal internal medicine, said, "She had a disease that involved her liver, her spleen, and many of her muscles. We could see this was a source of pain for her and not something that we wanted to ask her to fight. A final diagnosis will be determined and reported shortly."
Reveille's primary care doctor, clinical associate professor and chief medical officer, Dr. Stacy Eckman, in the Department of Small Animal Clinical Sciences said, "The critical care team and the internal medicine team that cared for her most recently did everything they could to find out what was going on and keep her as comfortable as possible. She was quite the lady. I went by to see her Sunday night in ICU and she was just like she always was—just such a good dog. Even sick, she was regal—she just had that air about her."
Dr. Eleanor Green, the Carl B. King Dean of the Texas A&M College of Veterinary Medicine & Biomedical Sciences, commended the veterinary team for administering her care.
"We, in the College of Veterinary Medicine & Biomedical Sciences, are profoundly saddened by the passing of Reveille VIII today. We are honored that she lived with us in the Stevenson Companion Animal Life-Care Center during her retirement, where she enjoyed relaxing while still able to hear the familiar campus sounds, including those from Kyle Field. We are also gratified to have been able to provide all of her health care needs throughout her life in the Veterinary Medical Teaching Hospital. In the end, after veterinary specialists did all they could for her in her final days, the decision was made to prevent her from suffering. She deserved that after being such a great First Lady of Texas A&M."
"I would like to thank the students and staff at the Texas A&M College of Veterinary & Biomedical Sciences and the Stevenson Companion Animal Life-Care Center and the Corps of Cadets for providing the former First Lady of Aggieland a life of care and comfort so deserved by one our institution's finest ambassadors," Texas A&M University President Michael K. Young said. "Each Reveille for the last 87 years has played an important role in making our university feel like home for students around the world, and Reveille VIII fulfilled that role exceptionally well."
Reveille VIII will be buried alongside the previous seven Reveilles in Kyle Field Plaza on the north side of the stadium.
"It has been a privilege for the entire staff of the Stevenson Companion Animal Life-Care Center to care for Reveille VIII after her retirement," Stevenson Center associate director Ellie Greenbaum said. "Reveille was truly loved by the center staff, present and past, and has brought immense joy and love into our lives. I speak for everyone at the Stevenson Center when I say that Reveille proudly embodied the Aggie spirit and enriched our lives tremendously."
Reveille VIII, a collie from Topeka, Kansas, made her debut as Texas A&M's mascot at Kyle Field during the opening game of the 2008 Aggie football season against Arkansas.
"Reveille VIII is more than just a dog, or even a mascot. She's a lady, a former student, a loyal companion, and a perfect representation of why Texas A&M is so great," Ryan Kreider, Reveille's handler said. "She was truly a part of my family, and I'm forever grateful to have held the honor of serving as her handler."
"Our family was so blessed to have had the opportunity to spend time with Rev VIII since our arrival here in 2015," said Dr. Danny Pugh, vice president for student affairs. "We loved having her in our home. She was dignified, distinguished, and I will fondly remember time spent petting her while sitting together on the kitchen floor. Pope Francis is reported to have told a boy that dogs go to heaven and I am certain Rev VIII is there now, with Rev I through VII, and they are leading a host of Aggies closely watching the scoreboard."
The Reveille tradition began in 1931 when members of Texas A&M's Corps of Cadets hit a small dog on their way back to campus from Navasota. Pets were not allowed on campus, but the cadets picked up the injured dog and cared for her and hid her away in a dorm room. Her cover was blown the next morning when "Reveille" was played by a bugler to wake the cadets and she began barking, earning the name Aggies around the world know her by today. Reveille I was named the university's official mascot the following football season when she led the band onto Kyle Field. The first Reveille served as mascot for 13 years until her death in 1944.
Reveille II, a Shetland Sheepdog donated by a Texas A&M graduate, made her appearance on campus eight years after Reveille I passed away. Reveille III was the first full-blood Rough Collie, and every Reveille since then has belonged to that breed. The most current Reveille is Reveille IX, who was introduced in May 2015.
Each Reveille mascot since 1960 has been cared for by a Mascot Corporal, a sophomore cadet in Company E-2.
"We are deeply saddened to hear of the passing of Reveille VIII today. She was a beautiful mascot for our university and represented Texas A&M with grace and charm wherever she went. As with each Reveille, it was an honor for the Corps of Cadets and Company E-2 to take on the responsibility for Reveille VIII's security and well-being for nearly eight years," Corps of Cadets Commandant Brigadier General (Ret.) Joe Ramirez said. "She enriched the lives of all the cadets who had the privilege of working with her during her reign as 'The First Lady of Aggieland' and always made all of the members of the Corps of Cadets proud to have her among them on the Quad. She will be deeply missed by all of us who had the honor and privilege of knowing her and working with her."
The Stevenson Companion Animal Life-Care Center was established in 1993 within the veterinary college as a place for pet owners to send their animals when the owners pass away or are no longer able to care for them. It is staffed by a team of veterinarians, caretakers, and student workers who live on site to ensure 24-hour care and company for residents.
"The Stevenson Center was honored to be asked by Interim President (Mark A.) Hussey to be the retirement home for Reveille VII when she retired in 2015," said Stevenson Center director Dr. Sonny Presnal said. "Reveille was still seen by visitors to the center and she has always been accessible to the cadets of E-2. Reveille VIII has been a delight to be part of the Stevenson Center family for the past three years."
Details on burial proceedings are forthcoming.