Grape farmers worry chemical could wound wine industry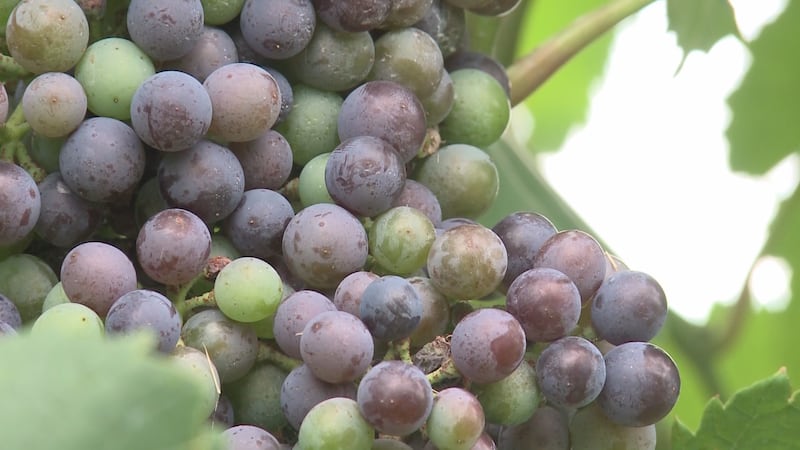 Published: Jan. 2, 2017 at 9:23 PM CST
Chemical damage is what a local grape farmer says is destroying his crops. Now, he fears a new herbicide could wipe out part of the wine-growing industry in Texas.
Paul Bonarrigo is the chairman of the board and founder of the Messina Hof winery and resort. Over the last two years, he says a dangerous chemical used to protect cotton is being over sprayed on his crops. He says it's costing him thousands, and ultimately, he believes the livelihood of his wine-growing business.
"Once the herbicide hit, it causes the plant to try and survive, so it aborts the fruit," said Bonarrigo.
Bonarrigo believes the reason his grapevines are suffering in the Texas high plains is because a nearby cotton farmer may have used a chemical known as Dicamba, or 2, 4–D, that's drifted to his grape farm.
"Someone sprayed a mile-and-a-half away and its affecting the vineyard again, and this is what I believe were going to see all over the high plains this year," Bonarrigo said.
Bonarrigo's vineyard supplies the grapes that make wine at Messina Hof, but he says recent chemical damage is affecting the bottom line.
"That would have been 44 to 66 tons at almost $2,000-a-ton," he said. "Didn't make a single grape."
The U.S. Environmental Protection Agency recently approved a new formulation of the chemical that is said to be less volatile.
"According to the chemical companies, they are claiming the new formulations wont vaporize and won't drift, so as a result, we'll have less trouble. Well, we need to find that out, and we will this year," said Bonarrigo.
But now, Bonarrigo believes the problem could be more complicated than just a new formulation. It is expected to cost more, and he worries that farmers who use the chemicals won't spend the extra money. That's why he's working with legislators to get the original products removed.
In the meantime, the Texas Department of Agriculture says they are committed to protecting both industries. They sent News 3 this statement:
"The Texas Department of Agriculture takes every pesticide complaint seriously. We thoroughly investigate every complaint. Of course part of that investigation may involve contacting the complainant to learn details of the complaint and proceeding with the investigation.
"As the state's leading promoter of Texas-made products, including Texas wines, through our GO TEXAN program, TDA is committed to ensuring the health and vitality of the Texas wine industry. To that end, just this month we have invited a viticulture expert from Texas A&M Agrilife Extension Service to address vineyards and pesticide use at our training for pesticide applicators. We feel it is important to connect these two industries to ensure the protection of both industries."