THE LATEST: Parts of Franklin "totally destroyed" by EF3 tornado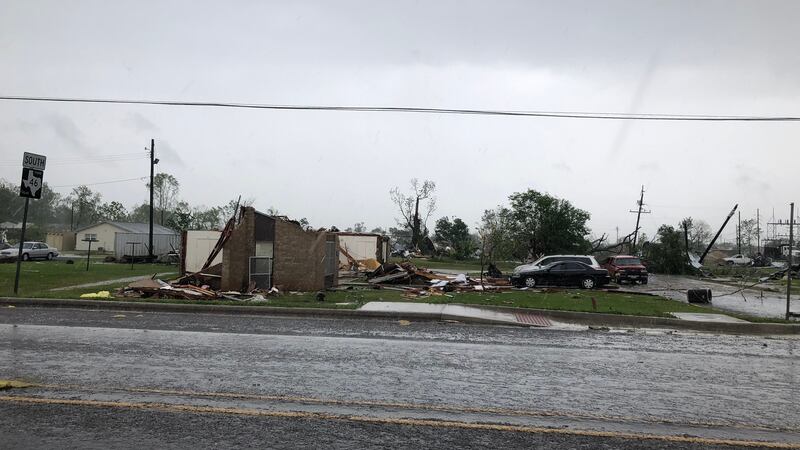 Published: Apr. 13, 2019 at 1:05 PM CDT
Robertson County officials say 55 homes, one church, four businesses, a duplex and part of the local housing authority were destroyed by Saturday's EF3 tornado. The church was believed to be a Church of Christ facility still under construction. Robertson County anticipates the storm caused at least $3.8 million in damages, with totals expected to rise.
Currently, Franklin, Bremond and Calvert ISDs will not have school on Monday.
Sunday night, the south side of Franklin will again be under a curfew, this time from 9 p.m. - 7 a.m. Robertson County Sheriff Gerald Yezak said the affected area will be illuminated and under constant police surveillance.
All of the city of Franklin is currently under a boil water notice anticipated to run through Wednesday evening. Water and ice will be distributed at the Pridgeon Community Center beginning at 8 a.m. Monday.
Robertson County residents with storm damage are asked to call the county's emergency operations center at (979) 828-6680.
The county is asking residents returning to their homes to be mindful of wires on the ground and to still consider any power lines as "active."
Billy Huggins, the county's emergency management coordinator, said the county's primary goals today were restoring water and power. There are currently about 140 crews working to restore power to Robertson County, though it may still take up to 72 hours before power is restored because of the damage.
An Entergy spokesperson said much of the work to restore getting power to communities in Robertson County could wrap up on Sunday night, then distribution work could begin Monday. Entergy believes power should be restored to all structures capable of having power by Monday evening.
A curfew was previously in place for the area of Franklin south of Highway 79 from 8 p.m. - 7 a.m. Saturday night following the direct hit from a tornado Saturday morning. Robertson County Sheriff Gerald Yezak said the affected area was illuminated by portable lights overnight and there were no reports of looting or trespassing.
Officials said Saturday evening that many residents had to be extricated from their houses by first responders. Franklin Police Chief Terry Thibodeaux said the damage left behind by the storm was "hard to describe" and looked like a bomb had gone off.
County Judge Charles Ellison said about half of the south side of Franklin was "totally destroyed."
The Robertson County Sheriff's Office said a six block radius south of Highway 79 from FM 46 to Calvert Street was the hardest hit. South FM 46 remains closed, as do multiple city streets from Owensville Street west to Calvert Street. Police, sheriff's deputies and DPS will be patrolling the closed area 24 hours a day as the city recovers.
Emergency Management Coordinator Billy Huggins said more than a dozen people were injured in the storm, but none were killed, and all are now stable. Officials with CHI St. Joseph say they have received 3 people with "significant" injuries related to the storm. Robertson County officials previously said seven people were checked in at a triage center at the Methodist church in Franklin, but all declined additional medical treatment. Laura Thibodeaux with Franklin's CHI HealthPoint clinic, said most of the injuries treated Saturday were soft tissue wounds like sprains, strains and bruises.
Mayor Pro Tem Ferman Richard said people were "really blessed today in Franklin," citing the low number of injuries following the violent storm. He spoke at a news conference and said the tornado felt "like a freight train coming through" when it hit the city.
The storms caused power outages across the area, many of which are expected to last through the night and could stretch into Sunday. As of 6 p.m., more than 9,000 Entergy customers were without power in the Brazos Valley. Entergy said crews are currently locating and assessing damage to restore power, but dozens of utility poles are down, as well as wire and trees. The company had no estimate for when power could be restored, but Robertson County anticipates it will be 48-72 hours before power is restored to Franklin. Entergy said the majority of the damage they need to repair is in the Madisonville, Calvert, Huntsville and Trinity areas. The company requests customers report downed power lines immediately at 1-800-ENTERGY (1-800-368-3749). A link to Entergy's interactive outage map is in the related links section of this story.
The south side of the city of Franklin is currently under a boil water notice. The part of the city north of 79 has been isolated in the water system and officials believe the water is now safe to drink.
The Robertson County Sheriff's Office asks residents of Franklin who cannot access their home to go to First Baptist Church in Franklin. If you are trying to access your home and you see power lines down, please contact the Sheriff's office 979-828-3299 and provide them your location. Residents who need to access closed streets for medicine or other important items can contact the Robertson County Sheriff's Office.
Robertson County officials said no gas or power are available in Franklin at this time. The closest available gas and power to Franklin are at the Mud Creek store south of the city and the Love's Truck Stop in Hearne.
Law enforcement asks people to avoid the town until further notice while residents begin to clean up. People trying to check on loved ones can call the Pridgeon Center in Franklin at (979) 828-3276. A shelter for animals has been set up at the Agrilife Extension office and 4H barn on FM 46 north of Franklin.
Residents in need of food are encouraged to go to the First Baptist Church, which is currently set up as a shelter. About 15 people are currently using the shelter facility, and Robertson County says the facility has more than enough food to meet the needs of the community.
The next update on the city's progress is expected at 5 p.m. Sunday evening. Officials said the public works building, some garbage trucks and equipment were damaged, and city services would be assessed beginning Sunday morning.
"We need all the help we can get," said County Judge Charles Ellison at a press conference early Saturday evening. Fortunately, help rolled in quickly.
Robertson County says they now have more disaster supplies than they can handle, and requests no additional donations of items. People interested in donating are encouraged to contact their local Red Cross or Salvation Army. Volunteers are also asked to call their Red Cross or Salvation Army chapter instead of just showing up to volunteer, or to reach out to the Emergency Operations Center at (979) 828-6680 to sign up to volunteer.
Billy Huggins, Robertson County's Emergency Management Coordinator, also said the Franklin Food Pantry was "basically destroyed" by the storm. While the pantry is not ready to receive donations, the Brazos Valley Food Bank will accept donations of food or money for Franklin.