INVESTIGATION: Here's everything we know about Chester Jackson's case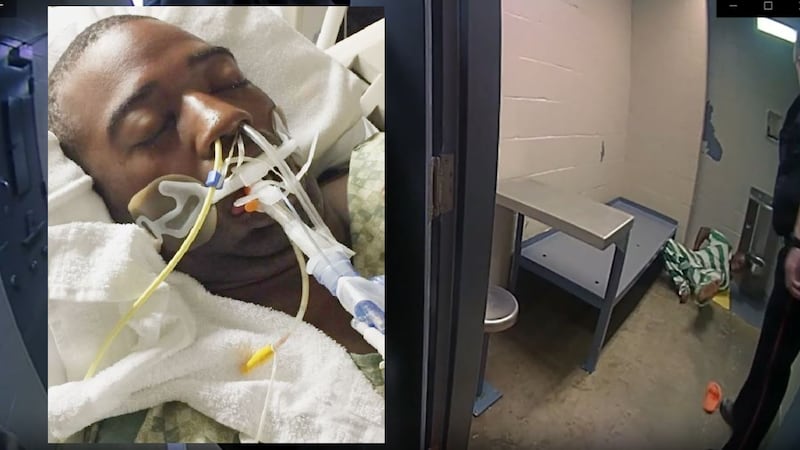 Published: May. 28, 2019 at 9:37 PM CDT
The release of body camera footage from the Burleson County jail sheds some light on what happened to Chester Jackson, Jr. following his public intoxication arrest last month, but there are still unanswered questions about what happened.
The following is a timeline of events KBTX has been able to compile from information obtained from Jackson's attorney, family, the Caldwell Police Department, and the Burleson County Sheriff:
Chester Jackson, Jr. is arrested near his home on a rural road in the Somerville area by a Burleson County deputy. He's arrested on a public intoxication charge and taken to the county jail in Caldwell. No details, documentation, or audio/video recordings have been released of the arrest.
At some point, after he's taken into custody, Jackson is brought before Precinct 4 Justice of the Peace Robert Urbanosky. According to Jackson's attorney, Jackson is handed down a one-day sentence in the county jail.
Jackson's attorney, U.A. Lewis, says documentation of her client's hearing, guilty plea, citation, and case are now "missing" from the system and can't be located by those in charge in Burleson County.
It's on this day, Chester Jackson, Sr. receives a phone call informing him that his son is being released from the county jail. His father is unavailable to drive to the jail, so it's Jackson's mother who makes the trip to pick up her son.
Within an hour, Eddie Lee Wilson arrives at the jail and is greeted by two members of the jail staff who said her son had been released, however, he would remain detained because he was having "mental issues" and could be a danger to others.
When asked if she could see her 30-year-old son, the jail staff declined her request. Wilson leaves the jail without her son.
At 11:23 p.m., body camera video shows several law enforcement officers transferring Jackson from one cell to another. The transfer is a peaceful one until Jackson is put into the second cell. At that point, he becomes visibly agitated.
In the video, Jackson falls to the floor as he's being handled by a Caldwell police sergeant.
A few moments the sergeant is seen on video pushing Jackson into a metal bed. Jackson bounces off it and hits his head against a toilet.
The officer says "hey, you fell. You fell, I did not throw you."
Other officers are heard saying "whoa, whoa, whoa."
Seconds later the video ends.
(Editor's note: The video shows four law enforcement officers present when this happens. One is the sergeant, there's also a second Caldwell police officer, someone who appears to be with the jail staff, and the officer from an unknown agency wearing the body camera.)
The family calls the jail to ask when they could pick up Jackson, but they're told his location is unknown.
Jackson's attorney says it's on this day Jackson was transported to an Austin-area medical facility by a Burleson County deputy.
Burleson County Sheriff Thomas Norsworthy said video would be provided that would show Jackson leaving the jail in "perfect condition", said Lewis. That video has yet to be released.
Jackson's family learns he's in an Austin hospital, on life support, and in a coma. His mother says he had to be resuscitated twice and has small puncture wounds on several parts of his body. His condition is critical.
Jackson's family, attorney, and members of Black Lives Matter in Houston hold a rally outside the Burleson County jail to express their concerns with the lack of information coming from authorities. They still have not been told how Jackson ended up in a hospital.
KBTX confirms the Texas Rangers are assisting in the investigation.
The Burleson County Sheriff's Office releases a statement denying accusations that it is withholding evidence in the case.
Caldwell Police Chief Charles Barnes announces one of his officers has been placed on administrative leave pending an investigation into misconduct against Jackson. Barnes says he was first made aware of his officer's involvement on Monday, May 20.
Lewis releases to KBTX a copy of the body camera video showing the incident at the jail. She obtained it on Friday, May 24 through a public records request with Burleson County.
Caldwell's police chief declined to respond to the video's release.
Jackson's condition is improving, but he remains in an Austin hospital and is unable to speak. Lewis says it's possible that a lawsuit may be filed in the case.