Global non-profit branch moving to empty Army Reserve building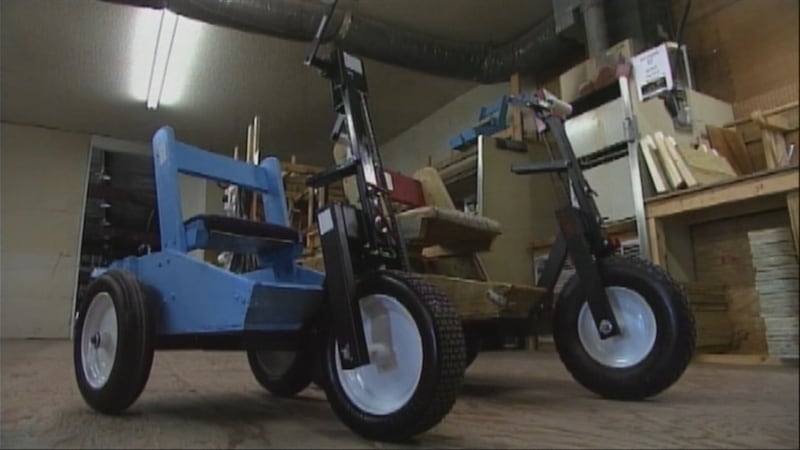 Published: Mar. 29, 2017 at 6:06 PM CDT
The Bryan City Council has approved an ordinance that will allow Mobility Worldwide Brazos Valley to move into the empty vehicle maintenance building, formerly used by the Bryan U.S. Army Reserve Center.
Mobility Worldwide, formerly known as a the PET Project, is a nationwide non-profit. One of its branches is in Bryan.
"We still call them PETs, or personal energy transportation units," said board vice president Ken Graalum.
Graalum is describing the hand-pedaled carts made by volunteers of Mobility Worldwide. Each cart costs about $300 of donated money to construct and ship to 104 countries across the globe. The cart is given to a person who in need who has lost the ability to walk and can't afford another option.
Here locally, there are dozens of volunteers like Ken Graalum. Like Graalum, many are retired veterans.
"We're doing something," said Graalum. "It gives people a purpose."
Until this week, Mobility Worldwide has been using a building on 31st Street in Bryan rent-free, as a donation from Twin City Mission. But, as both non-profits expand, Twin City needed the warehouse back, meaning Mobility Worldwide needed a new home.
"We went out and we were looking at every empty building in the City of Bryan, City of College Station or within a couple miles of the area," said Graalum with a laugh.
The group found their answer in the empty Bryan U.S. Army Reserve's vehicle maintenance building, which is owned by the City of Bryan.
"For the most part, there's no one there," said Hugh Walker, Bryan's deputy city manager. "So having somebody there on a regular, more of a full-time basis, will certainly add to security and put the building back into use--which we think is a positive as well."
Mobility Worldwide and the city are asked the council to approve a lease at $100 a month plus utilities.
"We feel great," said Graalum of the deal. "We are essentially paying the taxes on the building. That's it."
It's a partnership that will keep Mobility Worldwide volunteers working hard in city limits to send the gift of mobility far beyond.
"They're sending the Bryan mark all over the world," Walker said.
The Bryan City Council made a final decision on the proposal in a special meeting Wednesday.