State Fair Food: Funnel Cake Bacon Queso Burger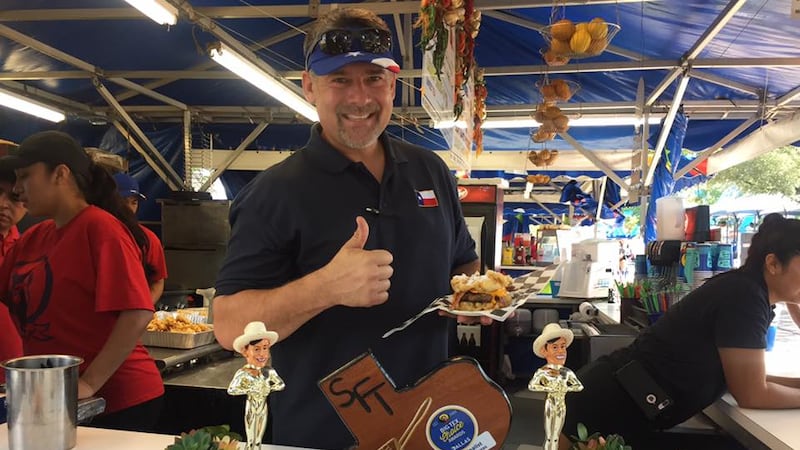 Published: Oct. 10, 2017 at 4:22 AM CDT
Funnel cakes and burgers are both common fair foods, but would you try a funnel cake burger?
Tom Grace's Funnel Cake Bacon Queso Burger took home two Big Tex Choice Awards at this year's State Fair of Texas.
The sweet and savory burger earned the award for "Most Creative" and for "Best Taste-Savory".
"You start with a funnel cake bun, put a fresh grilled hamburger patty right on top of that. Then you go for some good, big, chunky bacon slices, then the cheese sauce to 'goo' it all together," explained State Fair concessionaire and creator of this burger, Tom Grace.
Grace has been a State Fair concessionaire for 28 years. The idea for the Funnel Cake Bacon Queso Burger came to him one day while he was simply looking around his stand.
"[The ingredients] are all served right here in our booth," said Grace. "I just started looking at them -- and you know sweet and savory tastes good, so we thought we'd try it, and boom, there it was."
Other foods that made it to the final round include:
-Deep Fried Chicken Noodle Soup on a Stick by Chris Howard
-Deep Fried Froot Loops® by Milton Whitley
-Fat Smooth by Tami Nevins-Mayes
-Fernie's Fried Texas Sheet Cake by Winter Family Concessions
-Pinot Noir Popcorn by Robert Parish
-Surfin' Turfin' Tator Boat by Melissa Harrison
-Texas Fajita Fries by Nick Bert
-The Tamale Donut by Justin Martinez