The 23rd Annual Feast of Caring with Brazos Valley Food Bank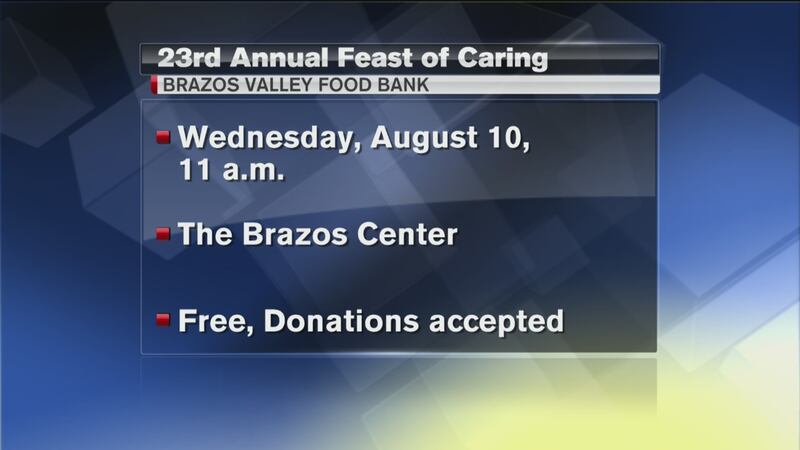 Published: Aug. 8, 2016 at 7:18 AM CDT
This Wednesday, it is your chance to come out and help the hungry in our community. It is the 23rd Annual Feast of Caring put on by the Brazos Valley Food Bank. The event is this Wednesday, August 10th at 11 a.m. It's held at the Brazos Center.
The meal is symbolic - simple, hearty ingredients that may not be fancy to all of us, but may be the most nutritious and filling meal that some in our community get.
Seating is picnic style. Not set tables and no assigned seats. Donations in the amount (or more) of what one might spend going out to lunch gratefully accepted.
Catering donated by Epicures Catering. Celebrity Servers (Texas State Representative District 12 Kyle Kacal; Mayor, City of College Station, Nancy Berry; City of Bryan Police Chief Buske; City of College Station Police Chief McCollum; Brazos County Sheriff Chris Kirk; and several local TV (even KBTX folks) and radio personalities, to name a few).
Where: The Brazos Center, Bryan
When: Wednesday, August 10, 2016; 11am-1:30pm
Why: Assist the Brazos Valley Food Bank with general operating costs associated with secure, storing and distributing almost 7 million pounds of food annually
KBTX will broadcast its noon show live from the event. KTEX will have a live remote.
TOP Sponsors: Vernie & Nellie Bodden
Warehouse Level Sponsors (financial underwriting of $2,000 or more): Cross Texas Transmission, HEB and Kroger
Matching Funds: Modern Woodmen Fraternal Financial will match donations at the event up to $2,500
In-Kind Sponsors: Epicures Catering, Coca-Cola, H-E-B, KBTX-TV, Kroger, KTEX 106.1, Scarmardo Food Service, Inc., Slovacek Sausage.