Paramedic husband responds when wife, surrogate mom, goes into labor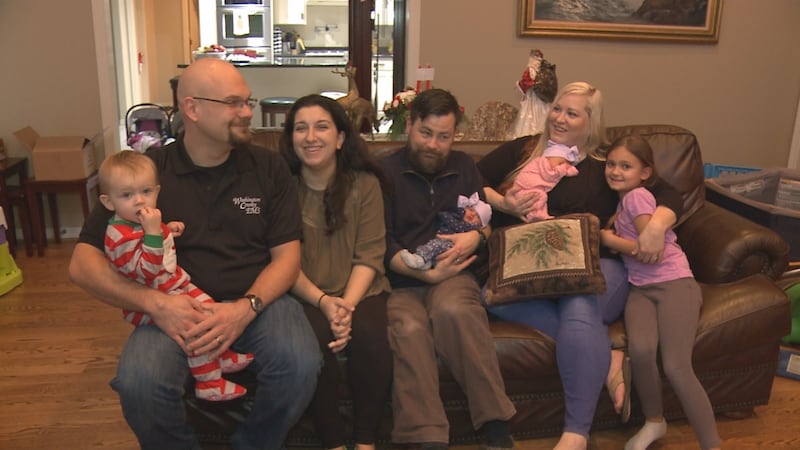 Published: Dec. 26, 2017 at 5:48 PM CST
A Washington County mother gave a special Christmas gift this past week.
She served as a surrogate for friends wanting to start a family. The babies came early.
"It wasn't how we planned it. I was supposed to have a Caesarean," said Nasreen Stump, the surrogate mother.
Last Tuesday morning, her water broke.
Nasreen's husband, Greg, was working that morning. He's a Washington County EMS Paramedic.
"I came downstairs dressed and ready for my husband to pick me up in the ambulance to hopefully have the babies in the hospital. Instead, I wasn't feeling well so I came into the half bath and had the baby right there," she said, as she showed us the bathroom.
"Ever medic's worst nightmare is to get a call to their own home. Fortunately, I knew what was going on and I was able to keep a decently cool head," said Greg.
He raced in the ambulance to their home as his wife struggled in labor, giving her medical instructions over the phone.
"It was raining really, really hard. The fog was very thick. It took us longer to get there than I would have liked. In all honestly, it was as fast as it possibly could have happened. We were about two miles away when we got the news that first baby had come out," he said.
The first girl, Freya was born in the half bathroom. Aurora was born at the hospital in Brenham.
The Stump's 7-year-old daughter, Mina, served as midwife and alerted the babies' parents, who were staying on their property.
"My wife and I have been wanting to be parents for years. Our good friend Nasreen offered, right along through the process of us trying to become parents, to be a gestational carrier for us," said Craig Rigby, the father of the twins.
"It was really a blessing. Words can't necessary describe just how incredible of a gift it really is for us to become parents," said Craig.
"A huge shout out to not just the Washington County EMS crew, and not just my best friend, sister, brother, I mean it's hard to describe what these folks mean to me. But just in general, the emergency crew and what they do. They saved our baby," said Tarah Woolgar, mother of the twins.
"We do hundreds of thousands of hours in training, only to have it be that one moment you can actually make a difference and change somebody's lives for the better," said Randy Armstrong, a Washington County EMS Special Response Technician. "Now there's two beautiful babies out there in the world," said Armstrong.
The twins were born at 34 weeks and were released from the hospital soon after without any health issues.