Wednesday's Child: Bre'Anna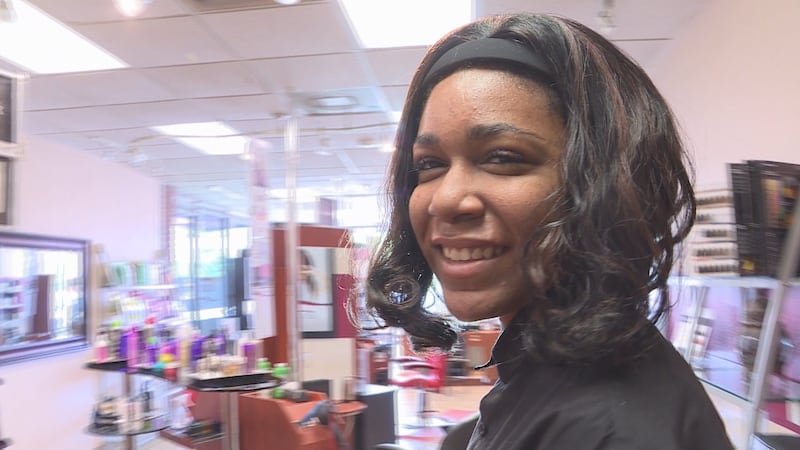 Published: Jun. 6, 2018 at 5:45 PM CDT
"You can't be a cosmetologist and not try it," a working cosmetologist said to Bre'Anna, 15.
Bre'Anna wants to work at a spa someday, but this day was all about getting pampered herself.
Bre'Anna lives in foster care, so "pampered" isn't something she feels often. Still, she finds a way to follow her passion.
"I love to do hair and makeup and paint nails," said Bre'Anna. "I just feel like everybody's beautiful in their own way."
Cosmetology and kindness aren't this girl's only strengths, though. She says math and reading are her favorite subjects in school.
"I like Pythagorean Theorem; it's easy for me," said Bre'Anna. "And in reading I have challenges that I can face."
Bre'Anna's not afraid of anything, not collaboration nor confrontation nor compromise.
"You've got to get along," Bre'Anna. "And you have to use other people's ideas, not just your own."
She knows that's what family is about, too, and it's one of the reason she'd like to find hers.
"We could talk and we could tell each other how our day was going," Bre'Anna said. "And it's really important to get stuff off your chest."
Bre'Anna wants a forever family for the tearful times and for the cheerful ones.
"We'd go to the park all the time and go for ice cream," said Bre'Anna. "Eat Wing Stop."
At the heart of it all, Bre'Anna knows, "If you have family, you always have someone that's there for you, and I just want a fresh start."
There is no cost to adopt a child out of Texas foster care. Plus, any child adopted out of the system will receive free in-state college tuition when the time comes.
If you're interested in adopting Bre'Anna or any of our other Wednesday's Children, call Voices for Children at (979) 822-9700.