Young girl assaulted at local Salvation Army by older boy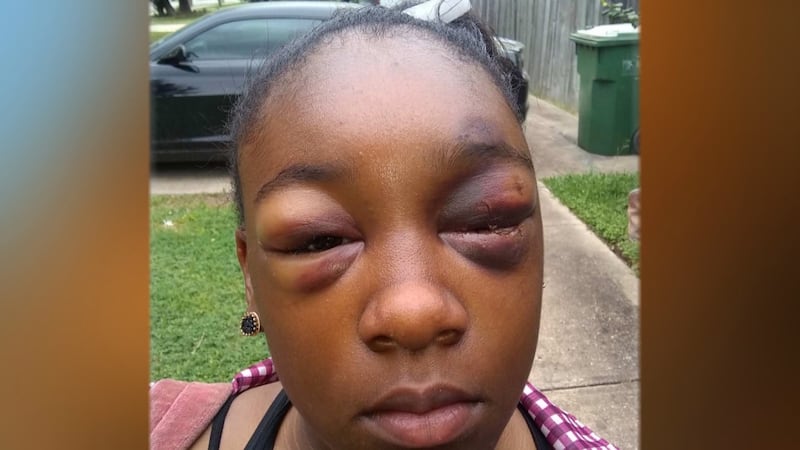 Published: Apr. 2, 2019 at 5:10 PM CDT
A Bryan woman is sharing her daughter's story about an alleged assault that happened at a sacred place. She says she hopes her family's experience can lead to change.
Shameka McGaha and her daughter Na'Kyleigh Walker have been spending their days making snacks and watching movies. Lately, they have a lot of free time because Na'kyleigh has been missing school.
"I felt like it just broke her spirit," McGaha said.
Na'Kyleigh has been wearing sunglasses to cover her face, because she says she's embarrassed about how it looks.
"It hurts. It hurts to see that it happened to me and he did it in a church home," Na'Kyleigh Walker said.
Both of her eyes are swollen and bruised. Na'Kyleigh says last week at a bible study, a 13 year-old boy hit her in her head with a chair.
"He got mad at the leader and he got up and he folded his chair and he reared back and swung it at me," Na'Kyleigh said.
It happened at the Salvation Army Worship Center in Bryan. It's the one place Shameka says she never expected her daughter to feel any type of pain.
"Angry, frustrated. Every day I look at her and it just tears me down," McGaha said.
The Salvation Army has offered to pay for the Na'Kyleigh's hospital bills, and say they removed the boy responsible for the attack from the program.
"The safety of our children is the absolute number one priority in all Salvation Army program, and when the event took place, that is the course of action that needed to be done," said Capt. Paul Ryerson with the Salvation Army.
Capt. Ryerson says his staff is investigating how to keep kids safer moving forward.
"My only word for this young girl is my sincerest apologies, and we will be working very hard to make sure it never happens again," Capt. Ryerson said.
The bruises and swelling may be temporary, but Na'Kyleigh says she worries about who to trust now.
"I want them to know that even though we have places where adults are, they doesn't mean that you're really safe," Walker said.
Bryan police say they are investigating the incident, but no word yet on if any charges will be filed.