Bearkats get new bowling home in Lowman Student Center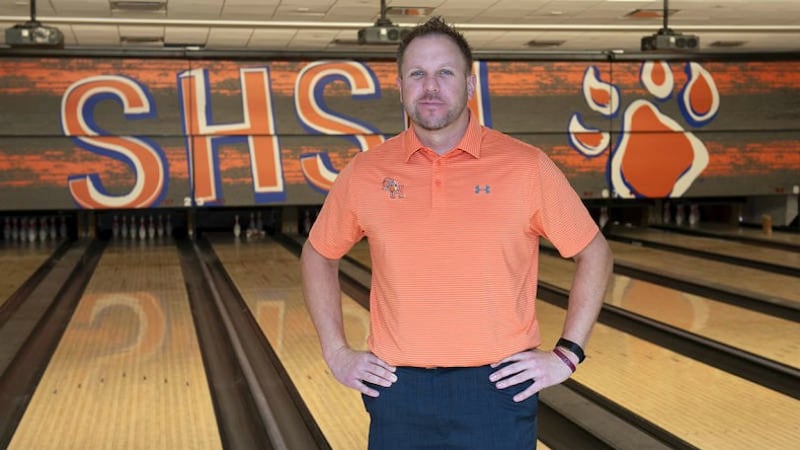 Published: Jan. 9, 2019 at 9:08 PM CST
Next week, students will be back on campus and starting the spring semester. It's a chance to start fresh with a new set of classes and group of professors.
For the Bearkat bowlers, there is an extra bit of excitement surrounding this Spring semester unlike any other. In the coming weeks, the Sam Houston State bowlers will be moving into their brand new on-campus facility.
Opening in the Lowman Student Center, the 8-lane facility will be the new home for the Bearkat bowling team, which has been a force at the NCAA level since the program's first season in 2011.
"This new opportunity is one that is humbling and special," said head coach Brad Hagen. "We are days away from opening one of the most amazing training facilities in the country, and we are among only a handful of NCAA Bowling programs who have this at their disposal. This state-of-the-art facility featuring Brunswick GSX lane machines, SPECTO and video feedback systems will provide the optimal student-athlete training experience."
Since taking the job as head coach in 2009, and the actual start of the program as an NCAA team in 2010, it's been a bit of a nomadic life when looking for training facilities. They have used Huntsville Lanes as a primary practice location but have also been forced to practice at facilities in Houston, Conroe and Livingston in the program's nine-year history.
Despite the constant uncertainties on practice times and locations, Hagen has built the program into one of the tops in the country. The Bearkats have participated in the NCAA Championships in seven of the last eight years, including winning Sam Houston's first Division I national championship in 2014.
"We wouldn't be where we are today without all those who helped pave the way," Hagen said. "We've had a lot of amazing athletes over the last nine seasons who have set the bar for this program's expectations. What we will have very soon is all because of them, their hard work, dedication, blood, sweat, and often tears at times.
"We are who we are and what we are because of those who did what was needed of them through the most adverse times without question or reservation. They too, are much a part of this journeys achievements and I hope someday all of our alumni will get to enjoy the fruits of their early labors," he said.
The new facility will not only give the Bearkats and on-campus home for practices, but it will also be able to serve as a host facility for potential NCAA Tournament matches. Last season the NCAA adopted a new playoff system that will require team that don't get an automatic bid to the finals site to play a qualifying match.
This season, the top four teams selected by the NCAA committee will receive an automatic bid to the championship site in Cleveland, Ohio. Eight other teams will compete in four separate qualifying matches.
"That's one of the great things about this new facility, is we are in position to host if we don't receive an automatic bid to the finals site," Hagen said. "It can be difficult to get time a house to host an event, even for just two teams, on short notice. We will immediately be able to host without any scheduling difficulties."
Just like when he built the bowling program from the ground up, Hagen has truly cherished the opportunity to have a hand in building the new home for Sam Houston bowling.
"I have to give a special thank you to everyone who has included me in this journey and allowed me to be a part of the decision-making process," he said. "It really shows how much our university cares for the future of this program. Brunswick, the LSC Staff, and our very own Bobby Williams and Chris Thompson have been a huge influence on the success of this project."
The Bearkats will be back in action this week as they will head to the Mid-Winter Invitational in Jonesboro, Ark. It will be the first of six events this spring before the Southland Bowling League Championships, March 22-24 at USA Bowl in Dallas.