CDL Championship Weekend is finally here and is ready to astound Call of Duty fans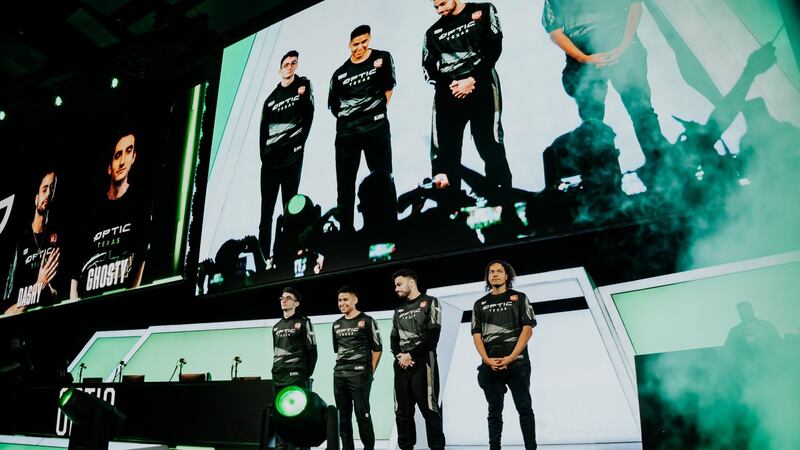 Published: Jun. 15, 2023 at 1:16 PM CDT
(Gray News) - The Call of Duty League Championship weekend is finally upon us. The top eight teams from the finalized regular season standings will duke it out to decide who gets crowned the 2023 CDL Champion. The event is at The Thomas & Mack Center in Las Vegas. The first round of the Winners Bracket starts Thursday, June 15, and Grand Finals wrap up the tournament at 3 PM on Sunday, June 18.
So what teams made it to the pinnacle of the CDL season? Major V didn't see anyone outside of the cutline make a run to qualify, so the top eight teams in the final regular season standings ended up as follows:
| PLACEMENT | TEAM | CDL POINTS |
| --- | --- | --- |
| 1st | FaZe | 385 |
| 2nd | OpTic | 320 |
| 3rd | Subliners | 320 |
| 4th | Ultra | 305 |
| 5th | Thieves | 285 |
| 6th | RØKKR | 220 |
| 7th | Breach | 190 |
| 8th | Surge | 190 |
Winners Bracket round one is set, and out of the four pairings, Toronto Ultra and Los Angeles Thieves is the only round one matchup we haven't seen at a Major. They have also never faced each other in a Winners Bracket. They've only gone against each other in three Majors during the late stages of the Elimination Bracket, where their record stands as Ultra up 2-1 on Thieves. With that said, this matchup is probably the most exciting of the first round. Thieves are the defending CDL Champs, and both teams finished in the top five in the standings. Every time they have played each other in a Major, it's been to keep their hopes alive. This time one of them will at least get an attempt at a redemption arc in the Elimination Bracket, but both teams will be fighting like their already there.
The matchup with the most history behind it has to be OpTic Texas versus Boston Breach. These teams met in the opening rounds of two Majors as well as two late-stage elimination matches. The most memorable being Major III, where both teams had newly instated a rookie onto their starting roster, Daniel 'Ghosty' Rothe for OpTic and Ben 'Beans' McMellon for Breach. In Winners Round One, Breach swept OpTic into the Elimination Bracket before a stunned Greenwall, OpTic's loyal fanbase. OpTic battled their way back to Grand Finals at their home Major, getting revenge on Breach in the Elimination Round Four with a 3-1 win. Overall OpTic's record against the Breach across the three Majors where they've encountered each other is 3-1.
However, a little spice has been added to this matchup as Breach has once again pulled a rookie to the starting roster. Eric 'Snoopy' Pérez spent one month with the Boston Academy team and two weeks before Champs found himself on the Breach's starting roster, replacing Reece 'Vivid' Drost. Champs is a tough place to have your debut, let alone against a powerhouse team like OpTic, who finished second overall in the season standings. With both teams including at least one rookie on their roster, no matter who wins, we will be one step closer to seeing a rookie win a CDL Championship in their debut season.
New York Subliners versus Minnesota RØKKR is a tale of one team consistently prevailing when it counts. These teams have faced off in two latter-stage elimination series, notably the most recent Elimination Finals, which occurred during Major V. Subliners swept RØKKR in that series and went on to win Major V, making them the only team with two Major wins this season. While that sounds impressive, Subliners still only finished third in the rankings due to their lackluster performances in the other Majors. Subliners also crushed RØKKR's dreams in Major IV when they knocked them out in the Elimination Round Three. RØKKR's only got the upper hand on Subliners once when they beat them in the Winners Round One in Major II. While this series favors Subliners, it's important to remember that anything can happen at Champs, and upsets are never too far away.
Speaking of upsets, Seattle Surge has the best shot at shocking the CDL fandom if they manage to win over Atlanta FaZe. FaZe is the number one seed, while Surge must make do with the eighth. FaZe has also knocked Surge out of the Winners Bracket in two Majors, but don't assume the fat lady has already sung for Surge. In the first Major of the season, Surge beat FaZe in the Winners Final and made it to Grand Finals. Most have already relegated Surge to the Elimination Bracket, but you shouldn't consider this a series to skip.
The Subliners and RØKKR kick off CDL Champs at 3 PM EST / 2 PM CST / 12 PM PST, followed by FaZe versus Surge at 4:30 PM EST / 3:30 PM CST / 1:30 PM PST. OpTic will then take on Breach at 6 PM EST / 5 PM CST / 3 PM PST with Ultra and Thieves finishing off the day at 7:30 PM EST / 6:30 PM CST / 4:30 PM PST.
Watch all the action on the official Call of Duty Twitch stream and Youtube channel. If you prefer to watch the tournament alongside ex-pros and content creators to get their insights on the excitement, tune in to Scump's official CDL Watch Party on his Twitch channel.
Gray Television is an investor in OpTic Gaming.
Copyright 2023 Gray Media Group. All rights reserved.