What Call of Duty Modern Warfare III means for the CDL and Rostermania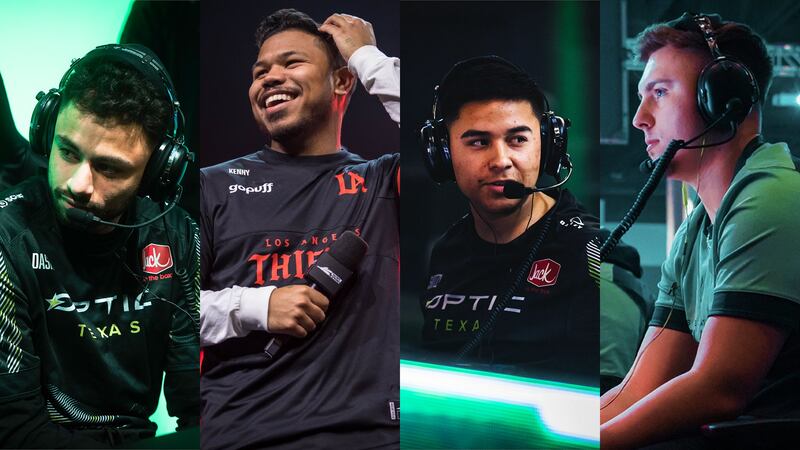 Published: Aug. 23, 2023 at 5:04 PM CDT
(Gray News) - Call of Duty Modern Warfare III, developed by Sledgehammer Games in partnership with Infinity Ward, was announced last week. Fans are ravenous for the next iteration of their beloved franchise, meaning there have already been plenty of deep dives into the worldwide reveal and gameplay reveal trailer.
Changes to multiplayer mobility and gameplay are always the first put under a microscope, as multiplayer is the portion of Call of Duty (CoD) games where most players spend much of their time. It's also analyzed due to its implications for pro players in the next season of the Call of Duty League (CDL).
So far this CDL offseason, the focus has been on player contracts and what the various teams without a confirmed roster will do. Five of the twelve CDL teams have yet to sign a player for the 2023-24 season, and two teams still have half their roster to fill.
Most notably in recent rostermania news, OpTic completed their roster with the additions of Kenneth 'Kenny' Williams and Amer 'Pred' Zulbeari on July 30th. Both players were released to free agency back in early July, with Kenny previously playing for LA Thieves and Pred being on Seattle Surge. Kenny and Pred were integral parts of their teams during the 2022-23 season, so it's no surprise that OpTic brought them on with intentions to be a dominant force in the 2023-24 season.
Other recent player signings have been Daunte 'Sib' Gray joining New York Subliners and Kenyen 'Capsidal' Sutton rejoining Boston Breach after he spent most of last season with the Florida Mutineers.
With the announcement of Modern Warfare III, players still searching for a team and teams still trying to figure out a roster must account for the information on the new multiplayer gameplay. Small changes like movement and health pool can affect the overall skill gaps of pro players. Some thrive with more time-to-kill (TTK), while others can struggle to finish off crucial trades. So, what do we know about the Modern Warfare III multiplayer?
Regarding movement, there have been significant changes and revamped old mechanics. Tactical sprint will return and have increased use time. It will also recharge while you are in a standard sprint. Slide canceling, a technique introduced in Modern Warfare (2019), has returned but will not reset your tactical sprint. These movement tweaks alone will bolster game speed and suggest that we are in store for a competitive style akin to the 2020 CDL Season.
The player health pool has been increased from 100 to 150, promoting a much longer TTK and will most likely produce longer gunfights and more chances for players to return fire when caught unaware. The last game in the Call of Duty franchise that had this high of a health pool was Cold War, and before that was Black Ops 4 back in 2018.
While most pros that excelled during past CoD seasons involving similar movement and health pools are already signed, a few remain that need to find a home. Ben 'Bance' Bance and Cameron 'Cammy' McKilligan stand out because they were on the Toronto Ultra squads that finished top six in Modern Warfare Champs and second in Cold War Champs. Cammy may just edge out Bance in value, though, as he also finished top six at Black Ops 4 Champs. Cuyler 'Huke' Garland is another notable pro, as he was a part of the Modern Warfare championship team, Dallas Empire, and also saw success last season being picked up by OpTic after Major I.
The main pro to look at is James 'Clayster' Eubanks. He was a part of the Black Ops 4 championship team, eUnited, and the following year's Modern Warfare championship team, Dallas Empire. He was also on the Subliners during Cold War, who finished sixth at Champs. He is a well-established CoD pro and saw success in previous CoD titles with similar multiplayer gameplay to what we can expect from Modern Warfare III.
All that said, there are still some additional changes announced for multiplayer. Tac-Stance is a new addition to mobility that falls between the player stances of aim-down sight (ADS) and hipfire. Very little is known about what this will look like, so its effectiveness is the most significant variable facing pro players. Mantling has also received a buff in that it will take less time to mantle, and you can mantle while sprinting. Reload canceling is also back, meaning players can return fire more effectively in sudden, unexpected engagements.
Multiplayer additions that won't necessarily affect pros but are important to note for fans include weapon progression from Modern Warfare II (2022), map voting and tweaks to a player's clothing, like gloves and boots, in Loadouts. Upon release, for the first time, no new maps will be added in favor of remastered and retooled versions of the original sixteen maps from Modern Warfare II (2009).
Players can preorder Modern Warfare III for PC, Xbox, and PlayStation. The release date is November 10th, and several Open Beta weekends are scheduled. PlayStation users will receive a first look at the game during the October 6-7th Early Access, followed by the October 8-10th PlayStation Open Beta. Xbox and PC users will get Early Access on October 12-13th, with the Open Beta for everyone beginning October 14-16th.
Gray Television is an investor in OpTic Gaming.
Copyright 2023 Gray Media Group. All rights reserved.