New AirMed 12 Helicopter lands at St. Joseph Health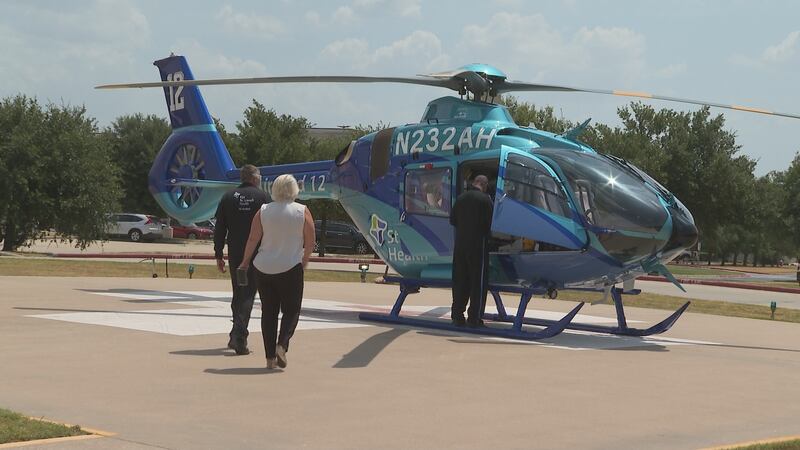 Published: Aug. 24, 2023 at 10:16 PM CDT
COLLEGE STATION, Texas (KBTX) - St. Joseph Health leaders are showing off some new life-saving technology and you can get a glimpse of it in the skies above the Brazos Valley.
The new AirMed 12 helicopter is a state-of-the-art resource thanks to a partnership with the MedTrans Corporation, which is the leading national air medical provider.
"The reason I'm so excited about it is because we are the provider of level 2 trauma services in the Brazos Valley and surrounding areas. And we do such a great job with trauma. And this is another extension of that we can go and pick up our patients, our trauma patients, and bring them immediately to our Medical Center where they receive the best care in the Brazos Valley," St. Joseph Health Regional President, Kimberly Shaw, said.
AirMed 12 will serve people across the Brazos Valley who are in need of immediate medical attention. This can even assist on long-flight transports and rescue operations during natural disasters.
"It's really the latest piece of technology that you can access today," AirMed 12 Supervisor, Billy Rice, said. "Now everything is really kind of automated. So you've got these, these big changes in safety and automation, in pilot workload reduction, and ease of patient access for the medical crew. So it's a substantial change from where we were in the beginning."
Flight teams include the St. Joseph Flight Crews and MedTrans aviation experts who can go into communities across the area to help service any agency or patient in need.
Those working on the ground say these flight crews are vital for patient care during a very scary situation.
"A lot of times when you're, you're having to prep the patient just to let them know, you know, what it's like in the helicopter being loaded in the helicopter, the noise the wind, you know. So having that conversation with them, just helps them keep calm. And then of course, the flight Crews come out and just when you meet them and you talk to them right off the bat, you know, you're in good hands," Chris Lamb with the Bryan Fire Department said.
St. Joseph Health is expecting to add another helicopter to its fleet in December.
Copyright 2023 KBTX. All rights reserved.