Aggieland Outfitters celebrates new location with ribbon cutting
The third Aggieland Outfitters hosted a ribbon cutting to soft launch its new store.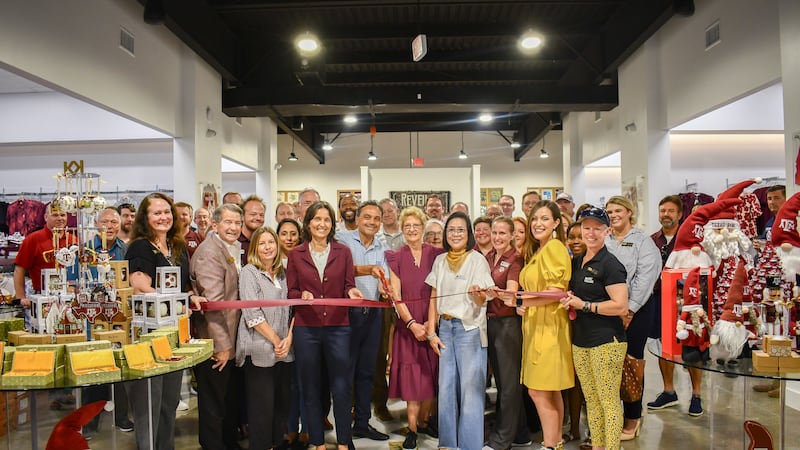 Published: Sep. 21, 2023 at 4:37 PM CDT
COLLEGE STATION, Texas (KBTX) - The third location for Aggieland Outfitters hosted a ribbon cutting Thursday.
The new location is at 100 Fairview Drive in College Station, off of George Bush Drive and in between Montclair Avenue and Fairview Avenue.
There is memorabilia that displays Texas A&M's history throughout the store.
The store owner and Aggieland Outfitters founder, Fadi Kalaouze, says he is very proud of the football program art piece displayed on the floor of the new store.
Kalaouze said the third location was built to prepare ahead of the planned construction of George Bush Drive and Wellborn Road.
They will keep all three locations for now.
Kalaouze said a lot of hard work was put into their new store.
"I would love for people to come just to look at the store, it's almost like a museum, that's what people tell me," he said. "They don't have to buy anything, really, we don't want them to buy. I just want them to see how much work that was put into this location.
Joy Mack, an employee at the Texas A&M Foundation and customer, said she is excited about the third location.
"The fact that they have decided to continue to expand to make locations more available not only to students here but also to people like us working at the Foundation or the Association of Former Students," she says.
The soft launch of the store is Thursday for anyone to visit and shop. The grand opening will be October 14.
Copyright 2023 KBTX. All rights reserved.